Who else looks forward to Super Bowl Food?! The game and the commercials are great of course, but for me, the real winner of Super Bowl Sunday is the food! 
Did you know it's estimated that the average American eats an average of 2400 calories and 121 grams of fat JUST during the 4-5 hour game? I'm all for good food but there are plenty of ways to make your favorites a little lower calorie for the same flavor. Below are 6 of my favorite super bowl food swaps!
Bake or air fry your wings instead of frying them. Baking them will save you about half the amount of calories, a ton of fat, and taste every bit as good.
Use thin tortilla chips or vegetables for dipping. I love the Tostitos Thin & Crispy tortilla chips. You can eat twice as many for the same amount of calories. Using vegetables for your dip also saves a ton of calories and incorporates all kinds of great nutrients and color to your plate. 
Limit your alcohol and/or choose lighter drinks. Alcohol calories really add up and don't provide any nutritional value. Not to mention after a few drinks, you probably aren't making as good of food choices as you would have otherwise. Drink water between your alcoholic drinks and make the drinks that you do have as low calorie as possible. 
Use Greek yogurt as a base for your dips. Try plain Greek yogurt with dry ranch mixed in. It's really good and gives you a burst of protein with no fat! This takes the dip calories down significantly. Recipe: Use 1 Tablespoon of ranch dressing mix to 1 cup of plain Greek yogurt. 
Swap chips for popcorn. Did you know popcorn is a whole grain? Choose an air-popped or a light butter or simply salted version. You get like 5 times the amount of popcorn as you do chips for the same calories.
Add extra protein and vegetables to your plate. These are low calorie and filling and will help you limit your overall caloric intake while giving you a burst of good nutrition.
Speaking of extra protein, here is a delicious healthier, gluten-free buffalo chicken meatball recipe for game day!
HEALTHY BUFFALO CHICKEN MEATBALLS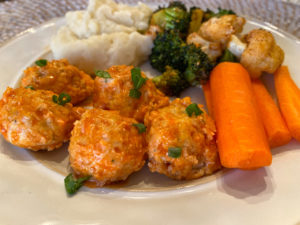 INGREDIENTS
1 pound lean ground chicken (I like 99% lean)

1 egg

½ cup almond flour

1 Tablespoon of ranch dressing mix

1 teaspoon garlic powder

½ teaspoon salt

½ teaspoon pepper

1 cup buffalo sauce (I love Frank's brand!)

Optional: green onions, ranch dressing, blue cheese dressing
INSTRUCTIONS
Preheat the oven to 400 degrees and lightly grease a 9×13 baking dish.

In a large bowl, combine all ingredients except for the buffalo sauce. Don't overmix or it will get mushy!

Scoop about 1 Tablespoon of mixture, roll into a ball, and place in the baking dish. Continue until all mixture is used. 

Bake at 400 degrees for about 15 minutes or until the internal temperature reaches 160 degrees F. 

Pour buffalo sauce into a large bowl and toss meatballs to coat. Serve with green onions, ranch or blue cheese if desired. 
TIP: To make these more kid friendly, set a few baked meatballs aside before adding sauce. My kids love them this way!

Nutrition fact may vary slightly depending on size of meatballs.