Metabolism Makeover
A personalized, practical, and proven coaching program to help you transform your body and mind (and never diet again).
You can change your health (and your life)
For most moms – kids change everything. The routines we worked so hard to build are shot. And, as the routines go, our health goes too.
Unfortunately, each year brings a little less confidence, a few more pounds, and a lot more chaos. Getting back to the good old days feels completely unattainable.
But, it's not – I promise.
I've been exactly where you are. After having my third baby my body felt completely different than ever before. I had more body fat, less muscle, and slower metabolism. As a dietitian and former personal trainer, I knew the steps I needed to take, but what I learned is that to get the body and health you want – you have to fight for it.
And I'd love to help you do the same.
Since 2020, I've helped hundreds of moms get leaner, stronger, and learn how to have a healthy relationship with their food without cutting out their favorites.
Whether it's 1-on-1 or in small groups, I'll support your goals with meal plans, education, and accountability so that you get from where you are now to the version you want to be.
Happy Clients
What Others Are Saying
Before finding this program I was overwhelmed with the fact I was working out consistently and thought I was making healthy choices, but gaining weight. I had no idea how much I was overeating and lacking in vital fuel sources. What seemed like basic tweaks have had a huge impact on me. I know I will carry the information I learned with me through life.
Amanda R.
Thanks to Hannah, I'm finally able to focus on the right elements of my health and nutrition. And even better finding simple ways to work towards my goals. Her support and guidance is invaluable!
Jori R.
This program was LIFE CHANGING for me! You shouldn't think twice about whether to do it or not. Hannah taught me to push the scale aside and she personalized my program on what we needed my body to do. It was not a "cookie cutter" plan that MIGHT work for some but not all. I truly have Hannah to thank for helping me!
Katie W.
Science-Backed & Data-Driven
As a Registered Dietitian with 1000's of hours spent in school and at the bedside – everything I do is rooted in verifiable data. Basically, I don't make recommendations if I can't back it up.
Realistic & Sustainable
I don't believe in cutting specific food groups or starving yourself. It's all about balance and eating foods you love. Success comes with loads of grace (and sometimes cookies).
Personal & Supportive
This isn't a faceless program. I want to know you and walk alongside you through this journey. I check in, lead groups, answer questions, and give feedback.
The Tools You Need to Get the Results You Want
Here's everything that's included to support you and help you build healthier habits
Food & Symptom Tracker (Optional)
If you don't measure it, you can't manage it. I'll set you up with a tracking system to help you better better understand how food is affecting your body.
Group and 1:1 Zoom Calls
We'll meet weekly on Zoom for a little teaching and Q&A. Certain packages include 1:1 private calls for more personalized help.
Personalized Recommendations
No cookie-cutter tactics here. I will review YOUR stuff and give YOU specific feedback so you know EXACTLY what to do.
Guides for All the Things
Need help eating out? Creating meal plans? Grocery Shopping? Recipes? I've got you covered!
On-Demand Education
Access educational modules that cover everything from metabolism, macro and micro nutrients, hormones, and much more.
Workout and Exercise Plans
Before I was a Dietitian, I was a Personal Trainer. My workout plans will help you workout smarter instead of harder.
Monthly Challenges
These are fun, accountability-building challenges to help you build healthy habits and reach your goals.
DM Access to Hannah
For those needing a little extra help, I'll be available via DMs to answer any questions that come up.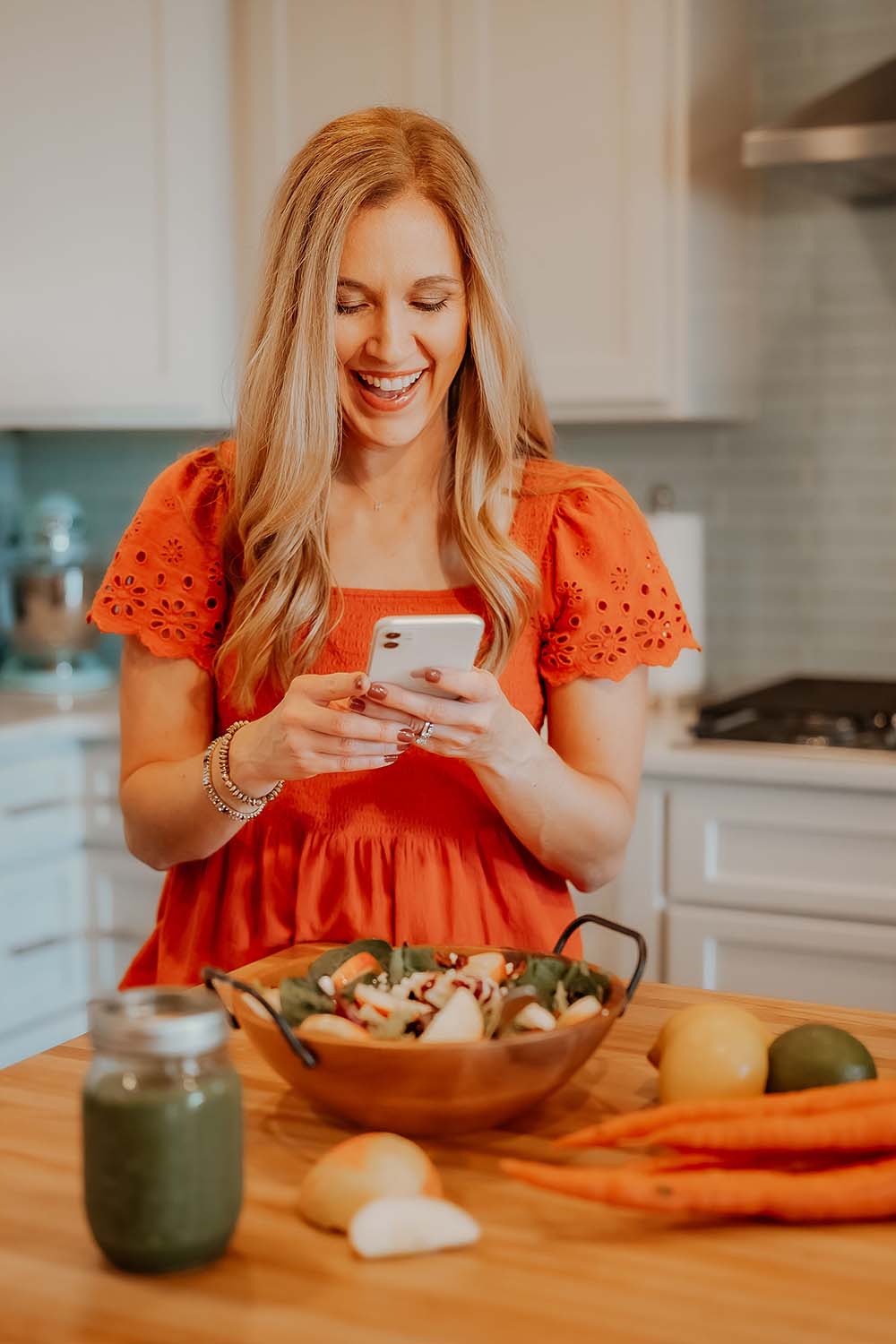 Hey, I'm Hannah.
As a busy mom of 3, I know how hard it can be to have healthy routines. Between packing lunches, being a mom taxi, and all the laundry – it just doesn't feel like you have time for yourself.
But, something I learned is that you have to fight for your body. And that's what I want to help you do.
If you think you've tried it all – you haven't.
As a Registered Dietitian, I've built a simple, straightforward, and supportive program to help you take back control of your health.
This isn't a program you sign up for and DIY. This is a supportive community where we all encourage one another and I'll be checking in on you regularly.
So, if you've got big goals in 2023, I'd love to partner with you and give you the boost you need.
Does this really work?
(And other really good questions)
DO NOT EDIT
Your content goes here. Edit or remove this text inline or in the module Content settings. You can also style every aspect of this content in the module Design settings and even apply custom CSS to this text in the module Advanced settings.
Is this a weight loss program?
If your goal is weight loss, then yes! I will give you the tools you need to make that happen. If you're looking to gain or maintain while trying to build healthier habits or have specific needs – I can help with that too.
What kind of results will I see?
To be honest, this depends a lot on you. Metabolism Makeover is not a quick fix, drop weight fast kind of plan. I will give you the tools and resources you need to develop a healthy plan that fits your needs, goals, and lifestyle. Remember that results come in a lot of forms such as body fat loss, change in mindset, pounds lost, inches lost, food freedom, and more! You will absolutely learn how to eat well and balanced for the rest of your life.
How much support will I receive?
I have three different coaching levels to choose from depending on your needs! All levels include a Facebook community where you can ask questions anytime, share wins, and get feedback from a Registered Dietitian. I have two more levels that include 24/7 private messaging, food journal checks, plus 1:1 video calls.
What all is included in this program?
I've worked hard over the past year to develop over 15 self-paced modules that can be watched when it's convenient for you! You'll learn everything about nutrition from macronutrients and micronutrients, fat loss, meal and snack planning, to exercise, mindset, and more! You'll also receive resources like restaurant guides, snack lists, workout routines, sample meal plans with recipes, great sources of fruits, veggies, protein,
Will I be required to count calories or track my eating?
Nope! You don't have to do anything you don't feel comfortable with. There can be great value in tracking and planning your food if your goal is weight loss and this may accelerate your results. With that being said, it is not required.
Can I do this if I have dietary restrictions?
Absolutely! As a dietitian, I have worked with all kinds of special dietary needs.
What is the refund policy?
I give everyone 3 full days from the time of purchase to get acclimated to the program. If it doesn't feel like a great fit, you may receive a full refund as long as it's within the 3 day window.
Healthy Doesn't Have to be Lonely.
Let's Work Together!