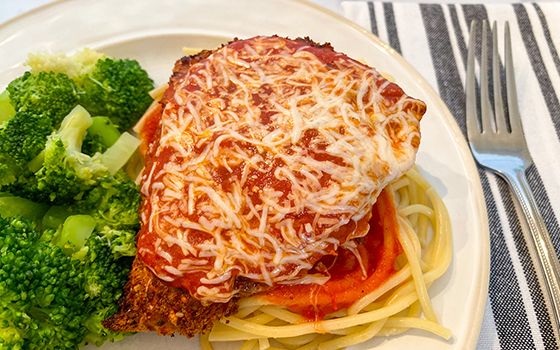 Air Fryer Chicken Parmesan
1 box of thin spaghetti noodles
28 oz jar marinara sauce
4 boneless, skinless chicken breasts (thin)
2 cups Italian bread crumbs
½ cup parmesan cheese, shredded
1 cup mozzarella cheese, shredded
2 eggs
Olive oil spray
Salt and pepper to taste
1 bag steamable broccoli (side)
Prepare spaghetti noodles according to box instructions.

Preheat the air fryer to 390 degrees. 

Whisk 2 eggs together into one small, shallow dish. 

In another shallow bowl, mix bread crumbs and parmesan cheese together. 

Salt and pepper chicken breast to season. Then dip into egg, then into bread, then place in a single layer in the air fryer. Spray with olive oil spray for extra crispiness. 

Cook for about 6-7 minutes and then flip over. Cook for another 4 minutes. 

Next, spread about ¼ cup marinara over each coated chicken breast and sprinkle with about ¼ cup mozzarella cheese. Return to air fryer and cook until cheese has melted about 3-4 more minutes. Chicken should reach an internal temperature of 165 degrees. 

Remove from air fryer and serve over 1 cup of spaghetti noodles or for a lower calorie or carb meal, eat alone!
Quick Tip
For lower calorie or lower carb, serve without pasta.