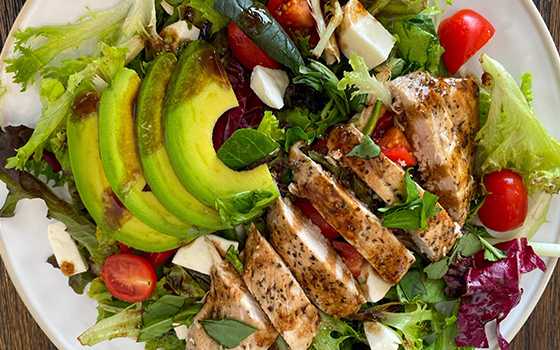 Balsamic Chicken Caprese Salad
1 lb boneless, skinless chicken breast
½ Tbsp olive oil
½ Tbsp balsamic vinegar
1 garlic clove, minced
¼ tsp dried oregano
¼ tsp dried basil
1/8 tsp dried thyme
½ tsp coarse salt
¼ tsp ground pepper
SALAD
8 oz small mozzarella balls, halved
1 cup cherry tomatoes
1 bunch of fresh basil leaves, roughly chopped
1 avocado, thinly sliced
6 cups spring green mix
VINAIGRETTE
3 Tbsp balsamic vinegar
½ cup olive oil
½ tsp Dijon mustard
Dash of salt and pepper
1. Preheat the oven to 400 degrees. Grease a small baking dish or oven-safe skillet. In a large bowl or Ziploc bag, coat chicken in marinade ingredients. Marinate in the fridge for 40 minutes to an hour.
2. Place marinated chicken in the prepared dish. Bake for 25-30 minutes until chicken is cooked through and no longer pink (internal temp 165 degrees). Change the oven to broil and cook as desired for coloring (around 2-3 minutes). Remove from the oven. Let rest in a warm place for 5 minutes.
3. While the chicken is resting, whisk together all ingredients for the vinaigrette in a small bowl. Set aside.
4. In a large salad bowl, toss together the greens, basil, tomatoes, mozzarella, and vinaigrette.
5. Slice chicken as desired. Top salad with chicken, avocado if using, any remaining fresh basil, and freshly ground black pepper. Serve chicken warm or chilled.
Quick Tip
Keep ingredients separate when plating for kids who don't like salads. Consider adding a grain side for the kids such as a dinner roll, pasta, baked chips, etc.