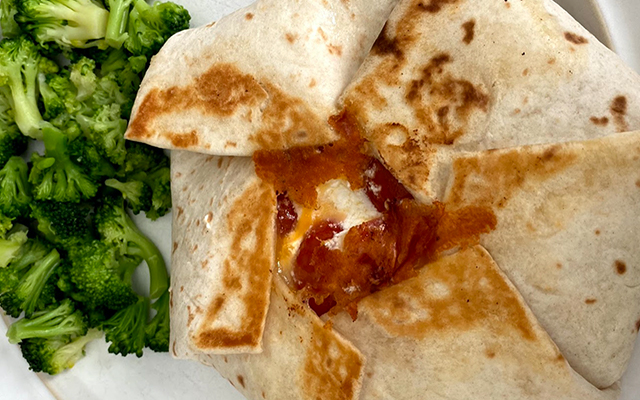 1 lb lean ground beef
1 packet taco seasoning
6 burrito size flour tortillas
6 tostada shells
1 cup sour cream
2 cups shredded lettuce
1 diced tomato
1 cup shredded Mexican cheese blend
Steamable corn – side
1. In a skillet, cook and crumble ground beef over medium-high heat. When it is no longer pink, drain the grease.
2. Place meat back into the pan and stir the taco seasoning mix as well as the water it calls for on the packet. Cook according to the package instructions.
3. Place the flour tortillas on a plate and warm in the microwave for about 20 seconds.
4. Lay one tortilla on a flat surface. Place ½ cup of taco meat on the bottom. Next add the tostada shell, a thin layer of sour cream, lettuce, tomato, and lastly, the shredded Mexican cheese.
5. To fold into the actual crunch wrap, start with the bottom of the tortilla and fold the edge up to the center of the fillings. Keep doing that, folding as tight as possible as you work your way around the tortilla.
6. Spray another skillet with cooking spray and heat over medium heat. Place the crunch wrap supreme seam-side down, onto the skillet. Cook for 2-3 minutes or until golden brown.
7. Flip over and cook the other side for another 2-3 min or until golden brown.
8. Cook the rest of the crunch wraps and eat immediately.
Quick Tip
Let the kids choose their toppings! If they don't like lettuce or tomato, just leave those off!