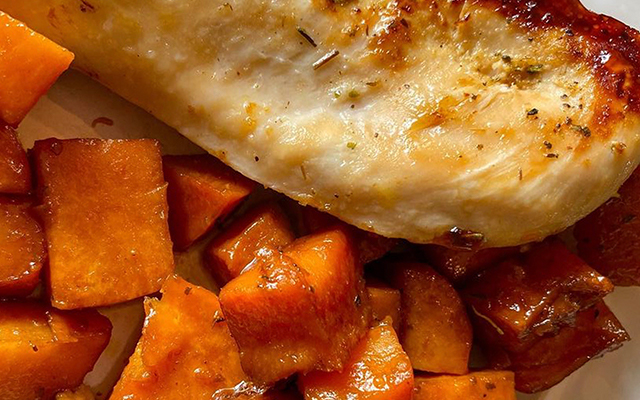 Honey Roasted Chicken with Sweet Potatoes
4 boneless, skinless chicken breasts or chicken thighs
5 Tbsp butter
4 Tbsp honey
1 tsp salt
¼ tsp black pepper
1 ½ tsps. Italian seasoning
1 ½ lbs sweet potatoes (peeled and diced 1-2" pieces)
1. Preheat oven to 375 degrees. Season chicken with salt and pepper plus 1 tsp Italian seasoning.
2. Melt 3 Tbsp butter of butter in a large skillet over medium heat. Add 2 Tbsp honey. Add chicken and brown on each side for 5 minutes. Move chicken to side of skillet.
3. Add remaining butter and honey to the center of the skillet. Once butter is melted, add sweet potatoes and stir to coat. Sprinkle with remaining Italian seasoning and stir to combine. Cook another 5 minutes.
4. Transfer the pan to the preheated oven and bake for 10-15 minutes until chicken is cooked through. Can garnish with fresh thyme and serve.