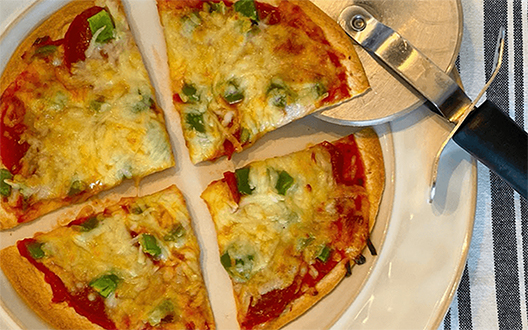 6 (8-10") low carb Mission tortillas
14 oz jar pizza sauce
Toppings of choice (chicken, bacon, pepperoni, sausage, peppers, mushrooms)
2 cups shredded mozzarella cheese
2 cups strawberries – side
1. Preheat the oven to 425 degrees.
2. Place tortillas on a baking sheet.
3. Spoon about ¼ cup pizza sauce onto each tortilla and spread evenly.
4. Sprinkle with about ¼ cup of shredded mozzarella and 2 Tbsp parmesan cheese.
5. Add toppings of choice.
6. Place pizzas in the center rack and bake for about 5-8 minutes or until desired crispiness.
7. Allow pizzas to cool a few minutes before cutting and serving.
Quick Tip
Kids love this recipe! Have your kids make their own pizzas with the toppings of their choice. Can use corn tortillas to make this gluten free.