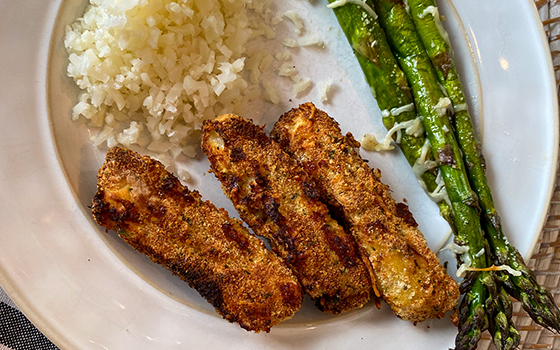 1 Tbsp olive oil
1 lbs cod or haddock fillets
1 cup flour
1 tsp kosher salt
½ tsp pepper
2 cups plain breadcrumbs
¼ cup chopped parsley
4 Tbsp salted butter, melted
½ cup grated parmesan
3 large eggs
16 stalks of asparagus – side
1. Preheat the oven to 450 degrees if baking. Grease a sheet pan with olive oil. If using an air fryer, preheat the air fryer for 3-4 minutes.
2. Cut the fish fillets into 2/5 inch long and 1 inch wide strips.
3. Combine flour, salt, and pepper in a shallow bowl. Set aside.
4. Combine the breadcrumbs, parsley, and butter with a fork in a separate shallow bowl. Add the parmesan and stir to combine.
5. Beat the eggs in a third bowl.
6. Bread the fish by giving the strips a good coating of the seasoned flour. Tap off any excess. Dip into the beaten eggs until coated. Roll the egg-coated fish in the crumb mixture. If need be, press the breadcrumbs into the fish. Place on the oiled sheet pan OR place in the air fryer on the crisper plate (if available).
7. Bake for 10 minutes in the oven, then flip the fish sticks and continue cooking until the breading is deep golden and the fish is cooked for about another 8 minutes. If making in the air fryer, bake for about 6 minutes on one side and then flip and bake on the other side for another 5 minutes or until done to your crisp preference.
8. Serve with ketchup or tartar sauce.
Quick Tip
Cut fish into smaller pieces for younger kids!