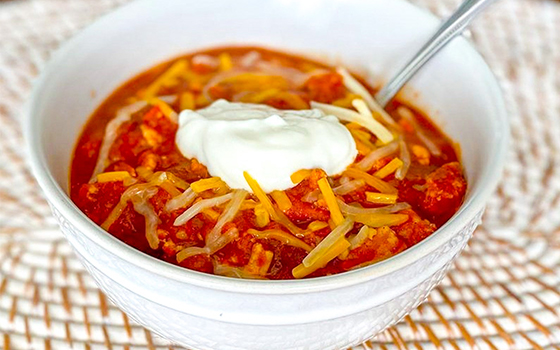 2 lbs lean ground beef
1 cup onion, diced
2 bell peppers, diced
1 Tbsp chili powder
1 tsp ground cinnamon
½ tsp pumpkin pie spice
15 oz pumpkin puree
2 tsp garlic powder
½ tsp salt
10 oz chili beans
2 Tbsp tomato paste
28 oz crushed tomatoes
1 tsp cider vinegar
1 cup water
Cornbread muffins (side)
In a large pot, add olive oil and saute onion and bell peppers. One softened, add the ground beef and cook until done and no longer pink. 

Add remaining ingredients to the pot and stir well. Cook on medium-high heat for 15 minutes then reduce to low and let simmer for an additional 15-20 minutes.
Quick Tip
You could use ground turkey for a leaner protein. Just season well!