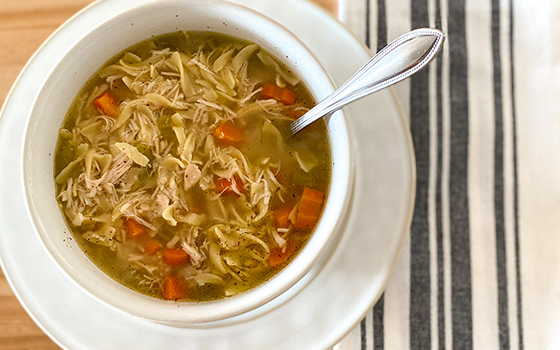 Slow Cooker Chicken Noodle Soup
1.5 lbs boneless, skinless chicken breast
5 medium carrots, peeled and chopped thin
1 medium yellow onion, diced
4 stalks of celery, chopped thin
3-5 garlic cloves, minced
3 Tbsp olive oil
6 cups of chicken broth (low sodium)
1 cup water
¾ tsp dried thyme
½ tsp dried rosemary
Salt and pepper to taste
2 cups uncooked, wide egg noodles
Toppings if desired: parmesan cheese, saltine crackers
To a slow cooker, add chicken, diced carrots, onion, celery, and garlic. 

Add in olive oil, chicken broth, water, thyme, rosemary, and season with salt and pepper to taste. 

Cover and cook on low for 6-7 hours. 

Remove cooked chicken and let it rest for 10 minutes then dice it into bite-sized pieces.

Meanwhile, add egg noodles to the slow cooker. 

Increase temperature to high, cover, and cook 10 minutes longer (or until noodles are tender). 

Add the cooked, cubed chicken back into the slow cooker. Stir and serve with saltine crackers or parmesan cheese if desired.
Quick Tip
This also makes for great lunch leftovers or to meal prep your lunches for the week!