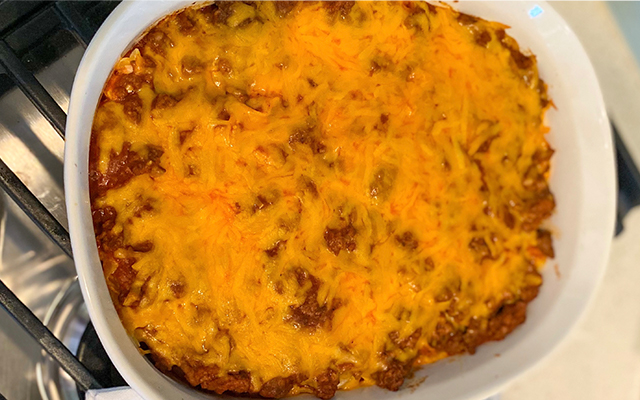 1 lb ground beef
1 can (15 oz) tomato sauce
½ tsp salt
Black pepper
8 oz egg noodles
½ cup sour cream
1 ¼ cup cottage cheese
1 cup grated sharp cheddar cheese
Side salad – side
1. preheat the oven to 350 degrees.
2. Brown ground beef in a large skillet. Drain fat, then add tomato sauce, ½ tsp salt, black pepper to taste. Stir, then simmer while preparing other ingredients.
3. Cook egg noodles until al dente. Drain and set aside.
4. In a medium bowl, combine sour cream and cottage cheese. Add to noodles and stir.
5. To assemble, add half of the noodles to a baking dish. Top with half the meat mixture, then sprinkle on half the grated cheddar. Repeat with noodles, meat, then a final layer of cheese.
6. Bake for 20 minutes or until all cheese is melted.
Quick Tip
Assemble through step 5 and cover with foil or lid and refrigerate earlier to save prep time later for those busy evenings!