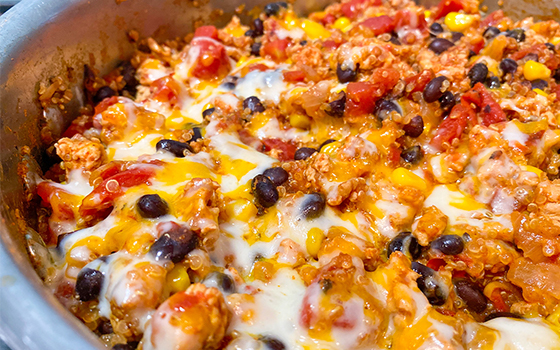 ½ lb lean ground turkey
2 garlic cloves, minced
2 tsp chili powder
1 tsp cumin
¾ tsp salt
Black pepper, to taste
1 (15 oz) can of black beans, rinsed and drained
1 (14.5 oz) can of diced fire-roasted tomatoes
½ cup frozen corn
¼ cup salsa
1/2 cup rinsed quinoa
½ cup water
½ cup shredded Monterey Jack cheese
½ cup shredded cheddar cheese
Cilantro, for garnish, if desired
Spray a large skillet with cooking spray and heat over medium-high heat. Add ground turkey and minced garlic and cook until meat is cooked through, breaking it up into crumbles as it cooks. Stir in all the spices and cook for another minute.

Add in the black beans, corn, fire-roasted tomatoes, salsa, and quinoa stirring until everything is combined.

When the mixture starts to bubble, add in the water, cover the skillet with a lid and lower the heat to medium-low. Simmer for about 20-25 minutes or until the quinoa is cooked. (It should have a slight bite to it, but not be hard and crunchy)

Sprinkle the shredded cheese on top and cover with the lid cooking until cheese is melted. Serve as is or you can serve in tortillas if desired.
Quick Tip
This tastes best with freshly grated cheese!