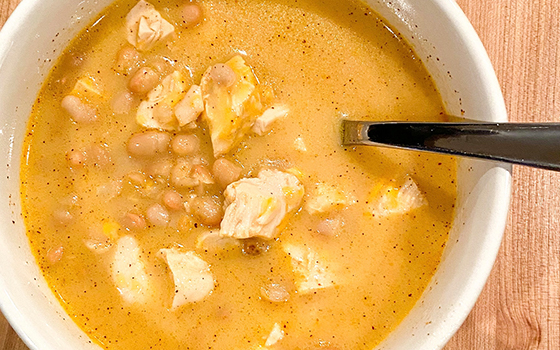 2 lbs boneless, skinless chicken breast
3 Tbsp olive oil, divided
2 Tbsp plus 2 tsp chili powder, divided
3 Tbsp cumin, divided
1 tsp salt, divided plus more to taste
1 medium onion, chopped
3 Tbsp minced garlic
2 (15 oz) cans white beans, drained
2 tsp oregano
4-6 cups low salt chicken broth
2 cups Monteray Jack cheese, shredded
2 cups cheddar cheese, shredded
2 cups sour cream, divided
GARNISH
Sour cream
Chopped scallions
1. Preheat oven to 350 degrees. Spread the chicken out in a roasting pan, drizzle with 1 Tbsp olive oil, and season with 2 tsp chili powder, 1 Tbsp cumin, and ½ tsp salt. Roast for 30 minutes. Shred or cut into bite-sized pieces. Set aside.
2. In a large pot heat the remaining 2 Tbsp olive oil. Saute onion and garlic over medium heat for 5 minutes or so, until tender. Add beans, shredded chicken, oregano, 2 Tbsp chili powder, 2 Tbsp cumin, ½ tsp salt. Add 4 cups of chicken broth, reserving the rest for thinning the chili to your desired consistency. Stir to combine and simmer gently on low for 20 minutes. (To keep chicken tender, do not let the pot boil)
3. Remove the pot from the heat and let it cool for 5 minutes or so before proceeding. With the pot still off the heat, stir 3 cups of cheese into the pot, 1 cup at a time. Then stir in 1 cup of sour cream. Bring the pot to a gentle simmer over low heat (to keep the dairy products from separating, don't boil). Simmer the chili for 15-20 minutes, adjusting with additional chicken broth, if you like.
4. Serve chili in bowls with garnishes on top or on the side.
Quick Tip
To make this lower calorie, decrease the amount of cheese you add.