It can be pretty miserable to eat when you're congested, coughing, and don't feel great, right? You probably notice that certain foods don't sound as good as they do when you feel well and you may even notice you crave some foods you wouldn't normally crave.
And the nasal drainage, UGH. Not only is it annoying but it also can decrease your appetite or make you feel a little nauseous. Then you throw in a sore throat and you really don't want to eat anything at all! Here are a few of my top recommended foods to include while you don't feel well.
Fluids. We always hear about how we should drink lots of fluids, but why? We need more fluids while fighting a respiratory infection to help thin out the mucus in our nose and lungs so we can clear it more easily and to make sure we stay hydrated. Warm fluids and soups like hot tea and chicken noodle soup feel good on a sore throat and the steam can help open up nasal passages.
One of my favorite go-to warm drinks when I don't feel good is a Honey Citrus Mint Tea (Medicine Ball) from Starbucks. I'm normally not a hot tea kinda gal but this one does wonders for a stuffy nose and sore throat and also tastes good!
If you're struggling to drink enough fluids, adding an electrolyte packet like Liquid IV will give you extra electrolytes and add some good flavor to your water as well.
Carbs. Carbohydrates give you immediate energy and when you're not eating much, ya need all the energy you can get. I would choose bland carbs like saltine crackers and bread and add a side of berries or an orange to give you extra carbs and vitamin C.
Vitamin C. Though vitamin C will not protect you from getting a viral infection, it does play a role in immunity and may help you clear a cold a little quicker. A few foods high in vitamin C includes strawberries, oranges and other citrus, broccoli, kale, kiwi, and red bell peppers.
Should you take vitamins while sick?
Of course you know I'm going to tell you to get your nutrients from food as much as possible, but when you're sick, you probably aren't eating your best. You don't need to be taking any crazy doses of vitamins, but a multivitamin with extra vitamin C may be helpful. If you're picking up some vitamin C, grab the ascorbic acid as it's the most bioavailable (best absorbed) kind of vitamin C.
Avoid taking any mega doses of vitamins without the approval of your doctor, pharmacist, or dietitian. Elderberry has also been shown to help reduce viral symptoms. 
Here are a few good light meal/snack options when you don't feel your best:
Chicken noodle soup 

Warm oatmeal with a side of strawberries

Toast with peanut butter and sliced banana

Bowl of cereal with an orange
Here's one of my favorite chicken noodle soup recipes!
Slow Cooker Chicken Noodle Soup
Time: 7 hours
Servings: 5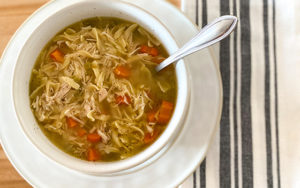 Ingredients
1.5 lbs boneless, skinless chicken breast
5 medium carrots, peeled and chopped thin
1 medium yellow onion, diced
4 stalks of celery, chopped thin
3-5 garlic cloves, minced
3 Tbsp olive oil
6 cups of chicken broth (low sodium)
1 cup water
¾ tsp dried thyme
½ tsp dried rosemary
Salt and pepper to taste
2 cups uncooked, wide egg noodles
Toppings if desired: parmesan cheese, saltine crackers
Directions
To a slow cooker, add chicken, diced carrots, onion, celery, and garlic. 

Add in olive oil, chicken broth, water, thyme, rosemary, and season with salt and pepper to taste. 

Cover and cook on low for 6-7 hours. 

Remove cooked chicken and let it rest for 10 minutes then dice it into bite-sized pieces.

Meanwhile, add egg noodles to the slow cooker. 

Increase temperature to high, cover, and cook 10 minutes longer (or until noodles are tender). 

Add the cooked, cubed chicken back into the slow cooker. Stir and serve with saltine crackers or parmesan cheese if desired.
Nutrition Facts (per 1 serving): Calories 350, Total Fat 12 grams, Saturated Fat 2 grams, Cholesterol 100 mg, Sodium 300 mg, Total Carbohydrate 22 grams, Dietary Fiber 3 grams, Total Sugars 5 grams, Protein 35 grams