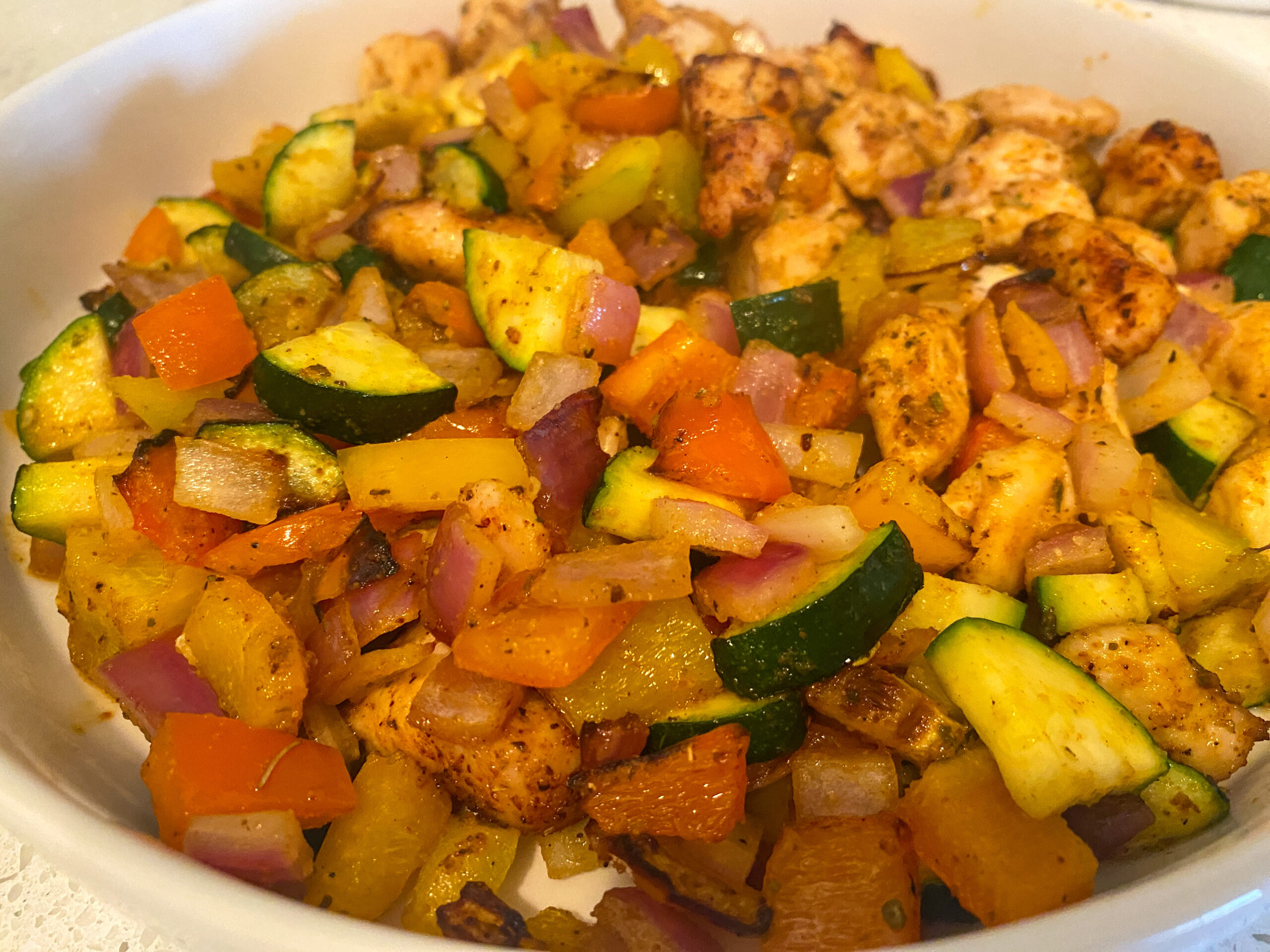 Hannah Favorite, Low Calorie
Air Fryer Chicken & Veggies
1

pound boneless chicken breast– cut into

1

-inch pieces

1 medium

zucchini, cut into 1-inch pieces
1 red bell pepper, cut into 1-inch pieces
1 yellow bell pepper, cut into 1-inch pieces

1 cup

chopped red onion – cut into

1

-inch pieces

2 tablespoons

 olive oil

1 teaspoon

 garlic powder

1 teaspoon

 onion powder

1 teaspoon

 chili powder

1 teaspoon

 Italian seasoning

1 teaspoon

 kosher salt

1/2 teaspoon

 ground black pepper
Preheat the air fryer (or oven) to 400 degrees F.
Add the chicken and vegetables to a large mixing bowl.
Mix up the garlic powder, onion powder, chili powder, Italian seasoning, salt, and pepper in a separate small mixing bowl.
Pour the oil over the veggies and chicken and toss to coat everything in the oil. Then pour the spice blend over everything and toss well to coat.
Spray the air fryer basket with olive oil spray and then working in batches add half of the chicken and vegetable mixture to the bottom of the air fryer basket in an even layer.  It is okay if some of the chicken and veggies are overlapping. If you're baking in the oven, spread the chicken and veggies on an oiled baking sheet or two.
Close the air fryer and cook for 13-15 minutes, shaking the basket halfway through the cooking time. Continue until you have cooked all of the chicken and vegetables. You will know the chicken is done when it reaches an internal temperature of 165 degrees F. If baking in the oven, bake for about 15-20. minutes or until chicken is cooked through.
Remove and serve hot.
Quick Tip
Double the batch to prep your lunches for the week!